Daniel Kuzemka began his soccer journey at six years old, playing in Centreville's Southwestern Youth Association (SYA). At 23, soccer is no longer just a game; it's a job. 
The Clifton native signed his first contract with a professional soccer league on April 14. The USL (United Soccer League)'s Charlotte Battery. Kuzemka will provide a depth role to current keepers Joe Kuzminsky and Hugo Fauroux.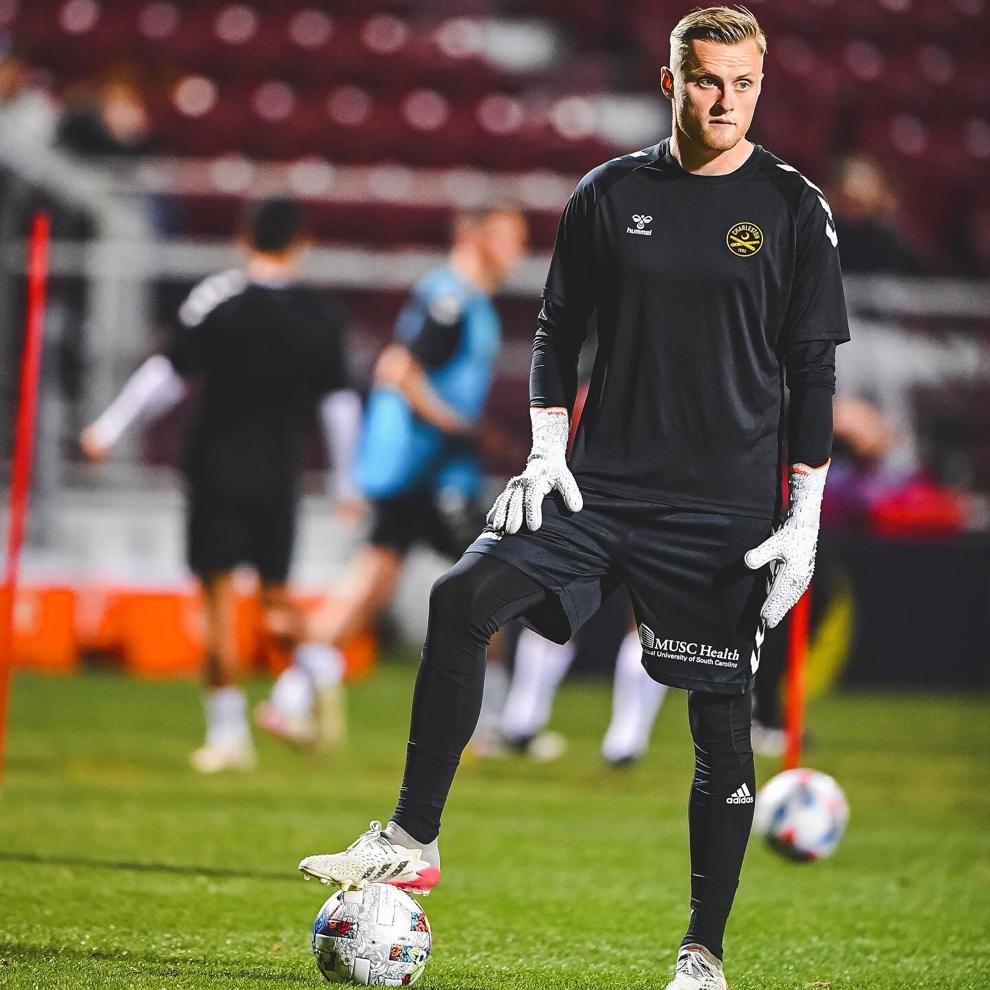 "It's a dream come true to officially be a professional soccer player; I can't thank the coaching staff and front office enough for giving me this opportunity," said Kuzemka. "I'm looking forward to helping push the group to be our best. I think we have the best goalkeeper coach in the USL Championship and are one of the strongest groups of keepers in the league."
When Kuzemka found out that he had been called up to the professional league, emotions ran high. Kuzemka said it was so surreal that he had to take a moment to realize just how far he had come. 
"Almost every kid when they grow up, you want to play professionally if you're into sports," said Kuzemka. "Even when playing at a really high level in college and seeing guys older than me, try to pursue that dream and fall short. It puts some doubt in the back of your mind. And, you know, there were times when I doubted myself, and I had to keep pushing."
Soccer has always been a part of Kuzemka's life. However, goalie wasn't his first position. Kuzemka started as a field player. Then at 9 years old, during a game, an injury to one of his teammates shifted Kuzemka from attacking the opposing net to defending his own. The good news was that playing goalie runs in the family, as Kuzemka's father, Justin, played goalie during college. 
"I was like, you know what, this is pretty cool. My father did this, and it just felt right. It's the best way to describe it. And I fell in love with it," said Kuzemka.
Athletics run in the family. Kuzemka's brother Nick plays football at Furman University, while his other brother Chris currently plays basketball at Loyola-Maryland. 
While playing at Centreville High School, Kuzemka committed to Clemson as a junior. After exchanging blue and black for orange and white, Kuzemka played for three seasons before transferring to UNC Charlotte for his final two years of college. 
However, soccer was not his only sport. While at Centreville, Kuzemka also played football in 2015 as a wide receiver and safety. After one season, however, he moved on from the gridiron and focused his full attention on soccer. 
At Clemson, Kuzemka played sparingly, only appearing in five matches over three seasons. Wanting more playing time and the chance to show his skills, he decided to transfer. After transferring, his career essentially took off. Fifty-seven saves and four clean sheets during his senior season and a berth into the 2021 NCAA Tournament. Kuzemka chose UNC Charlotte because of the coaches and their way of helping their players get to the pros. 
"When I entered the transfer portal, they were one of the first schools to call me. They just kept harping on like how they can help me reach my goals, and how they're going to develop me to get to where I want to be as a player, and they followed through," said Kuzemka. 
Now in the pros, Kuzemka is blessed to play alongside several other talented individuals and familiar faces. The decision to join the Battery reunites Kuzemka with former Charlotte teammate Patrick Hogan, who Kuzemka said was someone who made him feel welcome and belonged. 
"Right when I came to Charlotte, he was a great guy and a great player, and it's just nice to reunite with him again," said Kuzemka. "It's good that we get to push each other in the pro environment because this is our job."
Kuzemka joins a long list of former Fairfax County athletes making a name in professional sports. Former Chantilly Charger TJ Bush currently plays goalie for South Georgia Tormenta FC. Centreville's Justin Skule plays offensive tackle for the San Francisco 49ers, and Fairfax's Nick Scott plays safety for the reigning Super Bowl champion Los Angeles Rams.